Critical Thinking…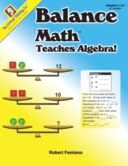 Critical Thinking is another company that I really like! And when we at the Crew were asked if we would like to review for them I was like….heck yeah!…loving it!!!
We were given a choice of which item we would like to review out a list. I chose → Math balance Teaches Algebra.
The cost for this book is $14.99 and it says it for grades 4th -12th.  (64 pages)
One of the main reason I like this company so much is due to the past books I have used. I enjoy the critical thinking, computation and problem solving. When I give these type of books to my son – I tell him they are more like puzzles. It takes the "fear factor" away!
The website describes the book as: "Understanding algebraic equations and solving algebra word problems has never been easier or more fun! This visual approach uses balance scales to teach algebra. The balance scales provide an intuitive, visual, and entertaining way to master fundamental algebraic concepts. The puzzle-like problems ensure students are cognitively involved while they hone their techniques of simplifying, substituting, and writing proofs to solve simultaneous equations." 
We enjoyed the book. When my son takes on the mindset of this stuff is puzzles….he sees it as fun…and forgot he was doing Algebra for a moment! ~smile~
Go to Critical Thinking website….grab a cup of coffee first! They have so much to look into buying!!!! Click can HERE!
And as always my wonderful friends, go see what my Mates thought about what they reviewed…..remember – we all asked for what we wanted to review! Just click HERE.
"Disclaimer Alert"
And remember –I received Balance Math Teaches Algebra in exchange for my honest opinion and review/blog post. And nothing else …..zip, zilch, nada, and what-ever else, yadda-yadda ~smile~
My writing/work/blog post is copyright protected ©
Blessings my friends, till next time….
Tags: books, curriculum, curriculum reviews, education, family, HomeSchooling, learning, lessons, Math, review, The Old Schoolhouse, The Old Schoolhouse Reviews
This entry was posted on Friday, April 27th, 2012 at 8:56 am and is filed under curriculum, HomeSchooling, logic, Reviews, The Old Schoolhouse, The Old Schoolhouse Reviews. You can follow any responses to this entry through the RSS 2.0 feed. You can leave a response, or trackback from your own site.