Progeny Press
.

We at the Crew were able to review for Progeny Press. They have study guides for literature from a Christian perspective. Their website says: "covering kindergarten through high school. Progeny Press study guides concentrate on critical thinking, comprehension, literary analysis, and Christian application. Our goal is to teach our children to think clearly, to understand literature, and to rely on scripture for truth and values, and enjoy themselves while they do it!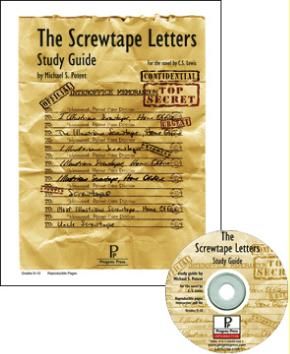 We were given a choice of which one we wanted to do (I LOVE when they give of a choice). I choose The Screwtape Letters because I have been wanting to do this with Drew –> forever!! and this review made me do it!…….yay! So thanks Progeny Press, this was not just a really great literature guide it was a great jump start.
Okay…so yes I did like it. It was very well written. And it is jam packed with things to do. By the time you have finished this guide…you know this book front, back forward…and upside down ~giggle~
Prices are ….
~ Booklet $21.99
~ CD $18.99
~ CD & Boooklet $27.99
~ Email Attachment $18.99
As always please go see what the other Crew Mates thought of Progeny Press. We are such a diverse group….ya never know what we are thinking ~giggle~ Just click HERE!! And don't forget, we were not all sent the same literature guides.
And remember –I received this literature guide in exchange for my honest opinion and review/blog post. And nothing else …..zip, zilch, nada, and what-ever else, yadda-yadda ~smile~
My writing/work/blog post is copyright protected ©
Blessings my friends, till next time….
Tags: books, curriculum, curriculum reviews, education, English, Grammar, History, HomeSchooling, learning, lessons, Literature, review, The Old Schoolhouse, The Old Schoolhouse Reviews, Writing
This entry was posted on Monday, March 19th, 2012 at 10:42 am and is filed under English, Grammar, Historical Studies, History, HomeSchooling, life, Literature, Reviews, The Old Schoolhouse, The Old Schoolhouse Reviews, Uncategorized, Writing. You can follow any responses to this entry through the RSS 2.0 feed. You can leave a response, or trackback from your own site.