TOS Review : Aims Education Foundation
.

For this TOS review, I was given the opportunity to review Aims Education Foundations Earth Book: Hydrosphere, Geosphere, Atmosphere, and Their Interactions.  This text strives for activities integrating math and science; for grades 6-9.
Book with CD  (The CD is the entire book)  retails for $49.95 and it is 446 pages OR you can buy the  PDF download  e-Book for  $49.95  Each person or school purchasing  AIMS  is granted permission to make up to 200 copies —  There is more to their rules, but that's the jest of it for us homeschoolers. Meaning, that's AWESOME!!! If we have one kid or 15 kids, we only need to buy ONE book! I can NOT RAVE about that enough!!!! It gets really expensive buying all the consumables for the children. And we moms want to be good examples to our children and respect vendors Duplication Rights/Copy Rights. Don't we Moms?
Click on picture of book below for a quick jump to a preview:  Then come right back   ~smile~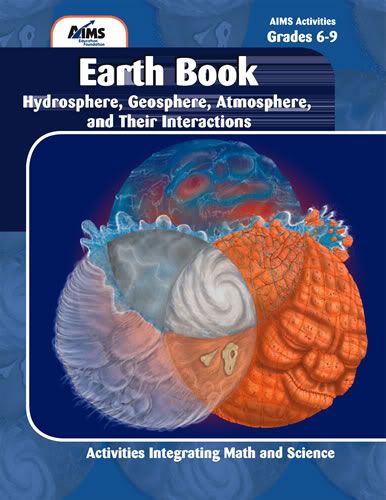 I really liked one of the pages in the front of  Earth Book.  When I first opened the workbook, on page 2 the entire page is taken up by a small Chinese proverb. But it is written in very large letters. It states:
*     I Hear
*     and
*     I Forget,
*     I See
*     and
*     I Remember,
*     I Do
*     and
*     I Understand.
They very much believe in hands on teaching. Which I totally agree, I believe in active leaning  …….  it is the ONLY way to go …….. at least for my kid. ~smile~
I did like the book. I like the hands on thing. I like that the experiments in the book can easily be completed at home. Meaning, the items and materials needed are easily found or a homeschooler would usually have on hand. The only thing I didn't like/agree with is the grade level thing. The book states for grades 6-9th grade. I disagree with the 9th grade level. My son is in 9th grade this year and this is a bit to young for him. And he is NOT super advanced. In my opinion, this is great for 5-7 grade.  Don't forget people, we ALL have different opinions!! so others WILL feel different than me. You need to go to the vendors website and look around and check things out for yourselves. AND go  read what the other TOS Mates wrote about the books they reviewed for AIMS. We all received different books ……..  well, a few of them received the same book as me, but there are other books to read about too  ~smile~    Click  HERE  to read their reviews or you can just click here —–> TOS Homeschoolcrew.com
Thanks for checking out my latest review and come back again.
I received this book in exchange for my honest opinion and review/blog post. And nothing else  …..   zip, zilch, nada,  and what-ever , yadda-yadda  ~smile~
My writing/work/blog post is copy write protected ©
Tags: books, curriculum, curriculum reviews, HomeSchooling, learning, lessons, Math, review, Science, The Old Schoolhouse, The Old Schoolhouse Reviews
This entry was posted on Monday, September 19th, 2011 at 6:57 pm and is filed under curriculum, HomeSchooling, Reviews, Science, The Old Schoolhouse, The Old Schoolhouse Reviews, Uncategorized. You can follow any responses to this entry through the RSS 2.0 feed. You can leave a response, or trackback from your own site.